Video is not available in your country.
Balzac
News
BALZAC on Tour 2011!
BALZAC on Tour 2011
09/06/2011 Frankfurt (GER), Batschkapp
10/06/2011 Flensburg (GER), Volxbad
11/06/2011 Hamburg (GER), Knust
12/06/2011 Leipzig (GER), WGT
Don´t miss it!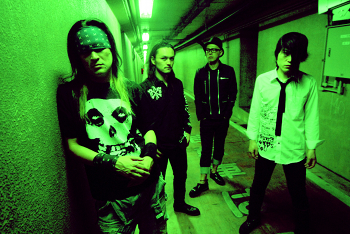 BALZAC – Judgement Day out now!
It's been already a year since BALZAC released their last album "Paradox" all over Europe, but Hirosuke and his bandmates are true diehards – just like the creatures they deal with in their songs and so there is a new album on the way: "JUDGEMENT DAY", the title of the brand new album promises a lot of fear and destruction the way BALZAC fans love it – and it's true! BALZAC return to their roots with singalong hooklines and fast pace drumming! But there is also improvement: The songs "Blackened" and "Judgement Day" present an increase of fierce guitar melodies, which will catch your ear in a second! The European release will also include 5 bonus tracks and is not available in japan in this form. So go and get your record if you dare to go on a ride with BALZAC!








Tracklist:
1. K.A.K.U.S.E.I.
2. The Countdown to Death Begins
3. PsychoManiac
4. Blackened
5. The Lies Behind It All
6. Sigh
7. Noize Of Space Vampira
8. Red Indian's Rock
9. Detest You
10. To Heaven
11. Dive
12. Judgement Day
13. I cry Instead
14. Dark End
Bonus Tracks:
15. Blackened
16. Japanese Chaos
17. XXXxxx
18. Astro Zombies
19. I Turned Into A Martian
Photos
Biography
It's been a year and a half since Balzac's last major release. They have just announced a new mini-album,"Paradox" which is fully-produced by Takeshi Ueda of The Mad Capsule Markets/AA= fame.
Balzac and The Mad Capsule Markets have had a close relationship for over 13 years and finally they have had a chance to collaborate on this very special release. Takeshi has not only fully produced the entire mini-album, he has also done all the programming and recording arrangement.
Balzac has taken their established horrorpunk sound and brought it up a level amalgamating in a perfect blend of distortion and unprecedented destruction. This sound is what Balzac refers to as a new digital horrorpunk sound.
Gan-Shin Records will release "Paradox" in Europe on 16th of October. This mini-album will come with an exclusive 18-track(!!!) bonus DVD! The DVD includes two clips of the "Paradox"-album and 15 more clips from the last Gan-Shin release "Hatred". There will also be a special bonus track on the DVD. This CD+DVD Special Edition of "Paradox" will only be released in Europe by Gan-Shin Records! Not available in Japan!